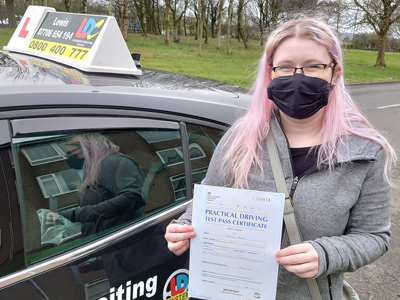 Suzanne Beacom
Lewis explained things simple and calmly without over complicating anything, which is great for any learner. Instead of just pointing out mistakes and telling me how to correct them, he would get me to think about what I could have done instead which greatly helped my understanding of driving and improved my confidence on the road. I would recommend him as an instructor.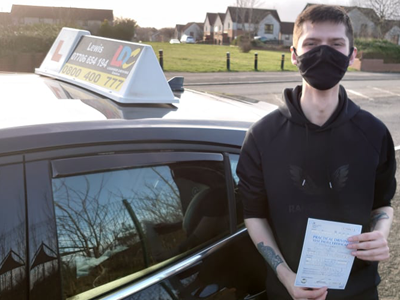 Daniel Robertson
I just want to thank Lewis for helping me pass, I have had lessons in the past and Lewis fixed bad habits and errors that I had picked up from previous instructors. Not only that but Lewis explained things in the most simplistic and logical way without over complicating it. I felt this put me in a good position to pass my test but also being able to drive confidently on the roads myself. Some instructors focus solely on passing the test but Lewis helped me become a better driver in all aspects. Thank you again.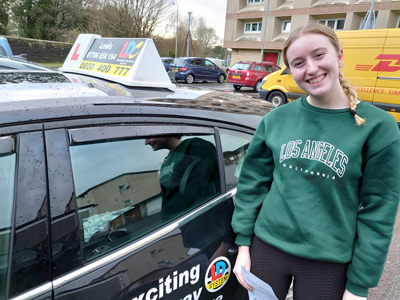 Ruthie Thompson
Lewis was an excellent driving instructor. Understood how different people learn and delivered his teaching in the best way suited towards you. Understanding of nervous drivers and works on this with you in any way he can. Highly recommend!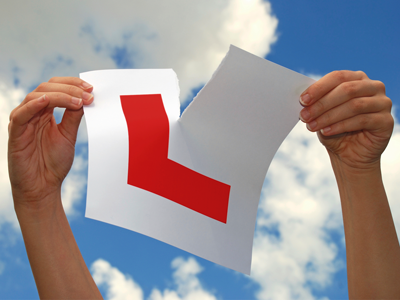 Kerri Holmes
Lewis is a fantastic instructor and I would highly recommend him to anyone thinking of taking lessons! He made me feel at ease during every lesson and helped me to build my confidence, very patient and accommodating! Thanks Lewis!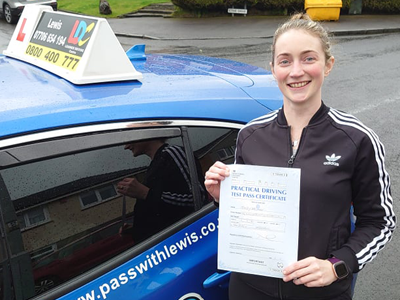 Tracey MacGann
First Time Pass
Lewis has to be the most patient driving instructor I've ever come across (I've had a few). His corrections felt more like encouragement and advice rather than anything patronising - the perfect combo for a nervy learner driver. There was progression every week, with my confidence building up to the point where there was little need for any feedback at the end of a lesson. This steady progress resulted in me passing my driving test on my first attempt, something I didn't think was possible. I would recommend Lewis to anyone thinking of making the leap into driving - you will feel comfortable and at ease in his presence.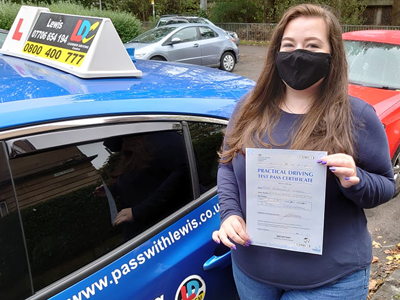 Anastasia Steel
First Time Pass
Lewis is an incredible driving instructor and it has been joy to learn to drive with him! Each lesson was met with plenty of patience and was tailored to areas I wanted to focus on. Anytime I was in the car I felt totally at ease and if I had any uncertainties about any aspect of driving we'd take the time to break it down piece by piece so that I could boost my understanding. Thanks to him I managed to pass first time with only one minor - Thank you Lewis!!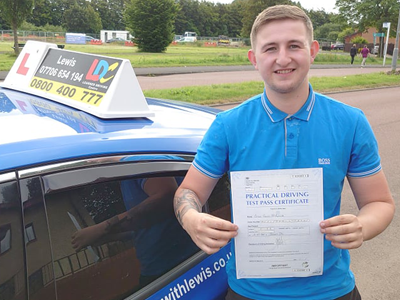 Peter McAlpine
First Time Pass
Lewis is a fantastic instructor who is patient, knowledgeable and great all round he explains everything in detail to ensure you understand thanks to his teaching I passed first time really appreciated thanks Lewis.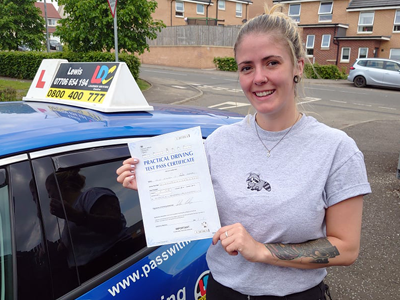 Kelsey Admans
Lewis is an amazing instructor and made learning to drive an easy and enjoyable experience. He is calming, friendly and patient and explained everything in detail to ensure I was understanding the theory behind the practical while driving. Having lessons spaced out due to lockdowns should have been a stressful experience but Lewis was super accommodating and thanks to his teaching methods I passed my test and now have the freedom a car brings. Thanks Lewis!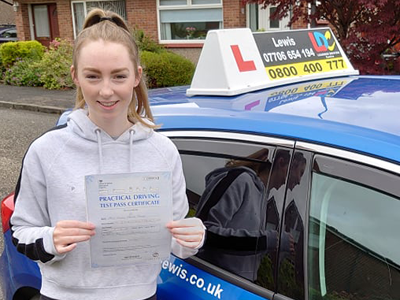 Louise Piggot
Lewis is a patient and calm driving instructor who always took the time to explain the range of driving scenarios required in order to pass my test. At the end of each lesson, Lewis provided constructive feedback on my driving. Also, he provided good materials for revision for my theory test. Thanks Lewis!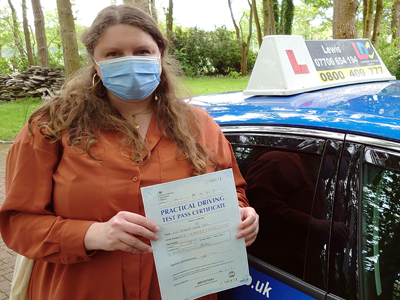 Katherine Weir
Learning with Lewis was a joy, he really made me feel comfortable and helped build my confidence driving. I found him very patient and calming especially when I made mistakes or panicked! Thank you for all your help!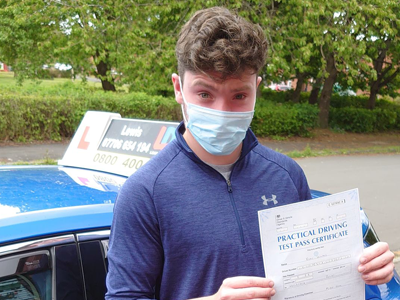 Ryan Leonard
Lewis was a brilliant instructor! Lewis is a very easy person to talk to and very relaxed whilst in the car with you, this makes the driving experience and learning from him very easy. We regularly had long talks about various situations and how to approach them in the car, this really helped as it made each scenario clearer in my head and with help from diagrams etc I felt confident when we then carried these situations out on the road. Overall, Lewis was a great instructor and I would thoroughly recommend learning with him regardless of your experience! Thanks Lewis!!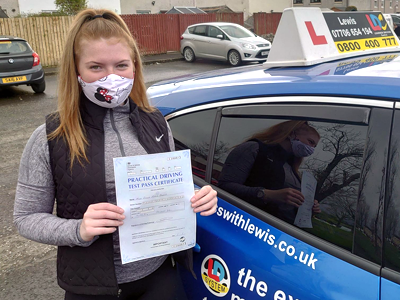 Emma Downie
First Time Pass
Can't speak highly enough of Lewis LDC, so easy going, patient and very accommodating. I felt very comfortable and at ease during my lessons. Thank you so much for all your help.
Joe Gillespie
Definitely a 5 star service.
Working with Lewis was brilliant, calm and relaxed. He never made me feel stupid or that my mistakes couldn't be fixed, he was easy to talk to, a great instructor! I would highly recommend him. He lets you decide what areas you wish to work on and where you feel your own weak or nervous points are which makes you feel so much more confident and at ease. Definitely a 5 star service.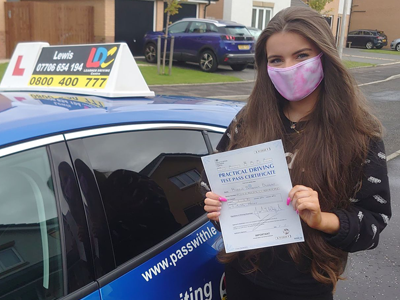 Murrin Duggan
First Time Pass
Lewis was a brilliant driving instructor who helped me pass first time! Such a lovely guy, never felt like I was getting into trouble when doing silly mistakes, unlike a previous driving instructor, and always gave me the option to decide what I wanted to focus on in each lesson, making sure I got the most out of every lesson in return. Had a great time learning to drive with him and highly highly recommend him to anyone as I had such a great experience!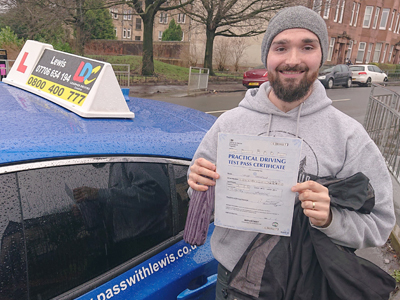 Chase Sabatine
First Time Pass
Thoroughly enjoyed my lessons - you were informative and direct, and gave me the confidence I needed to pass. Would easily recommend to anyone.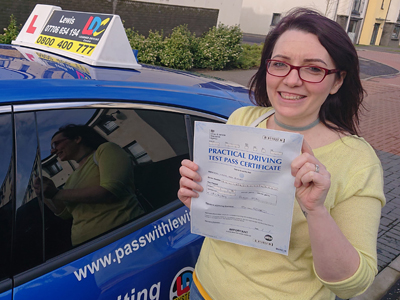 Laura Elliot
Lewis was a brilliant instructor. He always made me feel at ease when in the car with him. I particularly found his approach to teaching very helpful as to where he continuously reiterated the general driving rules of MSM/Hazard routine. It helped to really lock it into my memory and I feel I picked up driving quicker because of this. I also found the LD system approach a very helpful way of learning as I could choose which areas I wanted to work on. I generally always chose to do a mixed lesson but I feel this approach to learning could really help others fast track their skills. Overall I would recommend Lewis to anyone who is thinking of taking their driving lessons.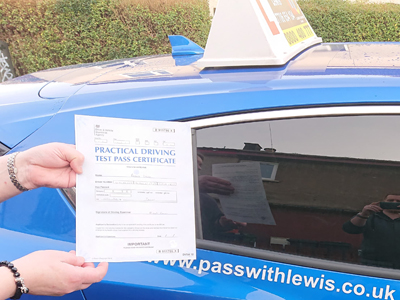 Pamela Lynch
Having recently done a semi intensive driving course, I highly recommend Lewis as a driving instructor. He is very patient and relaxed. Each lesson took into consideration what I thought I needed to work on. The online learning hub was also a great benefit, along with the manual. Could not recommend Lewis highly enough.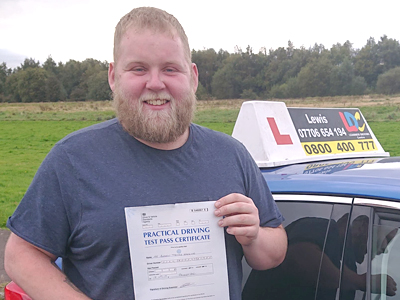 Andrew Harkins
Lewis helped me do a 2 week semi intensive course. He was very informative and had great confidence in me right from the start, did not doubt me at all. He helped me every step of the way and made me feel at ease. I would highly recommend. So glad I got Lewis as an instructor.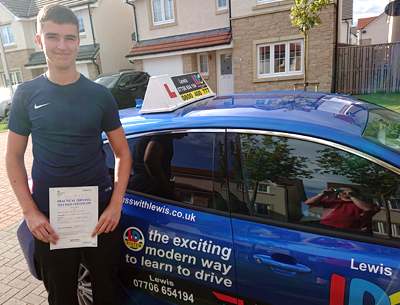 Alex Kirkwood
First Time Pass
Learning with Lewis was a great experience, I would highly recommend him, his unique style of teaching allows you the freedom of being able to make mistakes as you progress, and his expertise then focuses your driving towards areas that need worked on. Top class instructor who helped me on my way to a first time pass!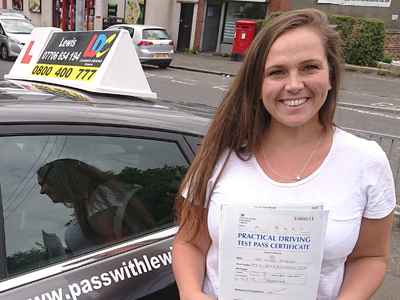 Nicola Jamieson
1st Time Pass
Brilliant instructor, would highly recommend!! Did a 20hr block over 4 weeks and passed first-time! Lewis asked lots of questions throughout that consolidated my understanding! Thanks again!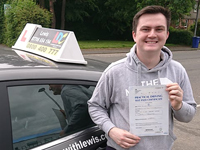 Kyle McNeil
First Time Pass
I would definitely recommend lewis from LDC to anyone at any stage of learning to drive. As someone who took almost a year out I was nervous about starting again but Lewis made me first lesson as comfortable as possible as well as getting me back up to speed in great time. He's very patient and if you ever make any mistakes he'll never shout at you but rather ask you about them to make you understand how or why they happened. All in all a great instructor who helped me achieve a first time pass.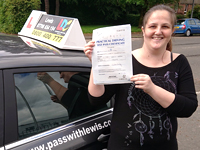 Elisa Crespo-Laird
First Time Pass
Being a Learner Driver with Lewis Hogg, I got the best teaching experience and felt comfortable and also relaxed through out the whole journey, I would recommend Lewis to anyone.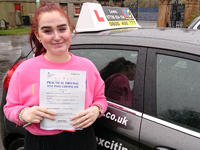 Erin Docherty
I really enjoyed learning with Lewis, he is very calm and patient, this is one factor that contributed to me getting confident with my driving as I didn't feel rushed or pressured to learn anything fast that I was struggling with. His way of teaching is very good as he allows you to work on the areas that you want and what you want to improve on. I would really recommend Lewis due to all of this, he also goes into great detail during feedback sessions of explaining the little mistakes you have made so you understand what happened and what to change next, also the way he does this is great due to him not just telling you but making you work out what you have done yourself and working you're way around the problem on your own. One of the best and couldn't have done it without him !!
Jack Hewit
First Time Pass
Thanks to Lewis for helping me pass my test, he deserves a lot of credit for it. He is relaxed laid back and also makes you feel at ease when driving. He helped me work on minor parts of my driving that were holding me back and made sure I was comfortable with them before moving on with a lot of tips along the way. Can't thank Lewis enough and recommend him more!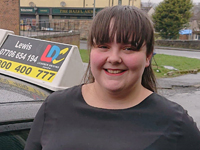 Lucy Young
I absolutely loved my driving experience with Lewis. He was very understanding and patient which helped me so much to passing my test. The best instructor ever! I can't thank you enough!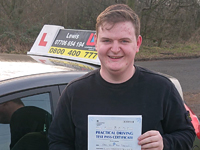 Greg Roberston
First Time Pass
I really enjoyed learning to drive with Lewis and the LD system, the provided book really helped tailor my lesson to cover the areas I was less confident in and allowed me to easily keep track of my progress. The friendly approach that Lewis takes with his lessons helped conquer my nerves quickly and made learning an enjoyable experience. Without the LD system and encouragement from Lewis I doubt I would have achieved a first time pass with only 30 hours behind the wheel.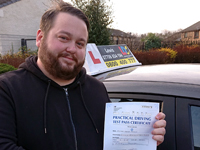 Matthew Deakin
By using the LD Driving Skills workbook I was able to focus on the areas I needed to whilst also improving on all aspects of my driving, allowing me to spend more time behind the wheel actually driving. Lewis is friendly, patient and keenly adapt at helping pinpoint where I was going wrong and helping to correct me in an easy to understanding manner. I would highly recommend to anyone looking for a professional and smooth learning experience.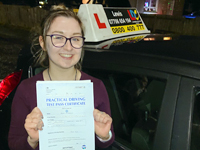 Niamh McLaughlin
Lewis fully explains everything and is prepared when something goes wrong. Lewis is good at managing your nerves and is able to understand the ways that need to taught.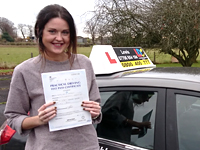 Danuta McPherson
Before I began driving with Lewis, I had given up on lessons, progressively getting worse the more I drove. Driving with Lewis has been a breath of fresh air, due to his tact with people. From the start he set my nerves at ease which was the toughest challenge. Lewis remained patient giving me the space to make mistakes to learn from, without becoming reactive or judgemental. I had more control over my learning, starting lessons by talking about areas I'd like to focus on each day. Persistently he gave clear, easy to follow direction when explaining manoeuvres and on the road. I felt that lessons at times could have been better timed, but appreciate that route times can be hard to predict. Lewis balanced the amount of instruction well, knowing what was information needed without over encumbering me with it. Lewis was both observant and mindful, which built my trust in his ability. The guidance and support was excellent and I would recommend his service to others.
Lesley Sharp
I would highly recommend Lewis for lessons. A very competent teacher and an extremely comfortable environment to learn in. I felt a lot of anxiety about driving and felt supported through out. All learning materials with LDC are great and very easy to use too.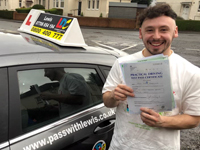 Adam Beverstock
I enjoyed my experience working with Lewis and the LDC way of learning as it allows you to recognise your own faults which in turn makes it easy to focus and improve on them.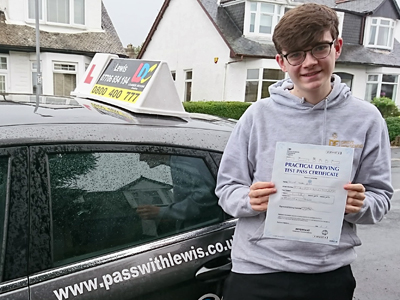 Scott Blair
I would not hesitate at all to recommend Lewis LDC for driving lessons. Lewis is a fantastic instructor, who genuinely wants you to learn as quickly and safely as possible. Lewis gave me several tips which enhanced the experience of learning to drive, and helped me become more confident in driving. The LDC handbook is fantastic as well for preparing for both the theory and practical tests. I also used the online LDC portal which had several mock theory tests which helped me pass the theory test first time. I cannot put in to words how fantastic an experience I have had learning to drive with Lewis, and would definitely recommend him to anyone looking to learn and pass fast!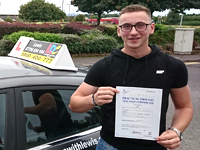 Josh Hewitson
First Time Pass
Lewis is an excellent instructor - he taught me so much in the few lessons that I had with him. He focused on making sure that I knew if I had made any mistake and always asked me what I could have done to prevent it. he was very friendly and I felt very comfortable and confident with him in his car. Thanks again!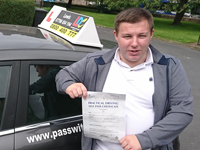 Jonathan Rooney
1st Time Pass
I learned everything very quickly and I did a lot of hours in a short space of time which was a massive benefit to me and I feel it is why I passed test on first attemp. Lewis also is very clam when giving instructions and his teaching methods are very good and easy to take in the information.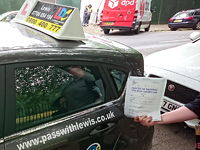 Stephannie Gillespie
I was totally against doing driving lessons again and then I found Lewis. He made me feed totally at ease and was reassuring when I made mistakes, this made me relax and actually begin to enjoy driving. The LD System is great, I especially liked the progress chart within the work book as it made it easy to tailor lessons to the subjects that I needed to work on. The videos were a good tool to refresh my memory on skills that I learned in the previous lessons before going out again. I highly recommend using Lewis as a driving instructor as he is calm, patient and knowledgeable.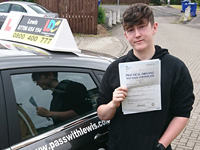 Sean McCallum
Lewis LDC is one of the best instructors you could ask for, very patient and calm. Couldn't have asked for anyone better to help me pass and I passed quickly. If you are looking for an instuctor, Lewis is your man!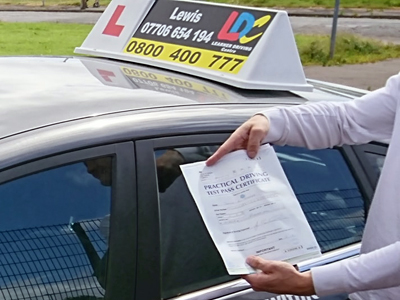 Jamie Turner
First time pass
I can honestly say the initial chat and approach Lewis had taken with me gave me complete confidence in the LD system, the LDC handbook which was provided to myself enabled me to continue learning driving skills even after my lesson on the road had ended. Overall I would highly recommend Lewis for anyone wanting to learn how to drive. I started my lessons exactly a month ago and I'm pleased to say I passed my test first time today.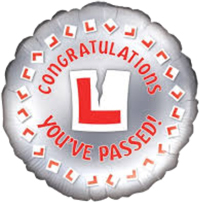 Pauline Ardron
Lewis was fab. He was very patient with me and calmed me down during any wobbles. He also gave me great tips and points of references to help make driving easier. It took me just over a period of 3 months to learn and that was with quite a few weeks breaks in between. I was out on the road driving in no time. I would highly recommend him.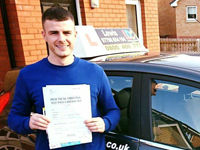 Christopher Beaton
First Time Pass
Big thanks to Lewis LDC for helping me pass my Driving test First Time! I really didn't think I would pass because of nerves but he kept helping me and coached me through it, thanks a lot mate, I highly recommend Lewis.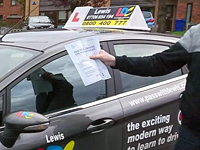 Charles Mure
I really appreciated taking my lessons with Lewis as it definitely made me a better driver by improving my road sense. As well as giving me a lot more confidence in myself and my ability. Which all helped me to pass my test.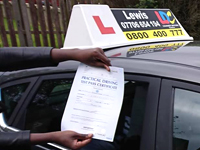 Regina
Lewis was my instructor and he was great in helping me pass my driving test. He is patient and went over problem areas with me to make sure I understood them. He's really easy going and I was very comfortable with him, making the learning process much easier. His car is also very easy to handle and this takes away some of the stress of learning to drive.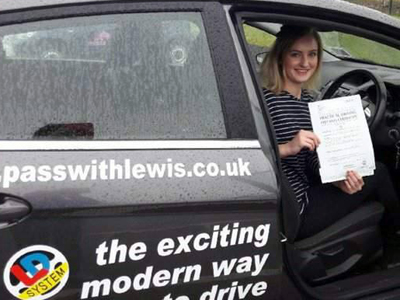 Rachel Carrigan
I had a great experience learning to drive with Lewis. I did a semi-intensive course over a month and Lewis made it easy to progress at a comfortable pace after having no driving experience whatsoever. The LD workbook made it possible to come to the lessons prepared and meant that a lot of the hours were spent behind the wheel getting driving experience. I would highly recommend Lewis to anyone wanting to learn to drive in a short period of time!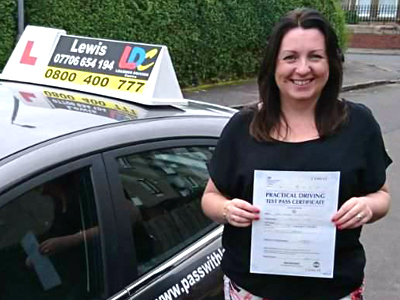 Kareen Dyre
Lewis is friendly, professional, patient and helped me to combat my nerves. Using the LD Driving Skills Workbook and being able to pinpoint areas that I wanted to concentrate on was key to boosting my confidence. I thoroughly enjoyed learning to drive with Lewis and would recommend him as an intuitive, patient and knowledgeable instructor.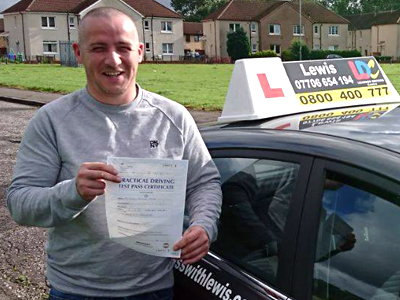 Andrew McLeod
I've passed my driving test with Lewis he was great very patient and very clear on his explanations. He also got me doing my home work with the LD System workbook and to my surprise it was so beneficial for my actual practical driving giving me a greater understanding of what was required for not just my driving but for me as a driver and it meant more driving time and less questions for Lewis thank you so much buddy for being patient.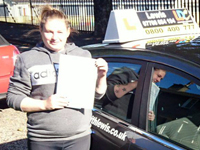 Sheree Picken
Lewis is a good instructor, he is really laid back and patient with people. He wasn't my first driving instructor but he was my last. Thank you so much for helping me pass my test. I would recommend Lewis to anyone looking to start driving.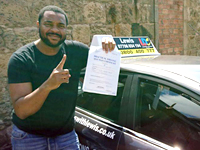 Ugo Ahumareze
1st Time Pass
Passed my Test at the first attempt... Lewis listens to your views and makes corrections, which if you take on board, should have you pass pretty easily. Good job.